Sleeping on your side is the most common sleeping position among the 3 different styles (back, side and stomach). Choosing the wrong mattress as a side sleeper can result in chronic hip and shoulder pain, as well as loss of blood circulation in the arms.
The perfect mattress for side sleeping is a soft mattress with firm support. Your mattress should have a fair amount of cushion on top (pillow-top or plush) to provide optimal relief for the pressure points in your hips and shoulders. Whether you decide on innerspring, latex or memory foam, your support should be firm, which will keep your spine properly aligned and eliminate the achy back you feel the first 15 minutes of being awake.  
Bed Pros offers a wide variety of choices for side sleepers. Here are our recommendations for every budget:

Luxury
Simmons Beautyrest Black – Natasha Luxury Firm

The Natasha is the pinnacle of innerspring mattress options.

The core of the Natasha features their Advanced Pocketed Coil System, which is the next generation upgrade to their Classic Pocketed Coil. The biggest improvement in this new system is the addition of their patented Cable Coil, a triple stranded coil that is used in suspension bridges and for the towing of boats. The Cable Coil offers users exquisite conformity, motion isolation and durability and has helped to make the Natasha one of the best selling mattresses of all time.

The deck features features 4 distinct comfort layers that each provide a unique benefit.

The bottom layer contains Comfort Response Latex, which is a ventilated foam that contours to your body for maximum pressure relieving comfort and temperature control.

Just above is Black Ice memory foam, an upgraded version of Micro Diamond Memory Foam which features a breathable gel technology added to the top layer.

The thickest layer in the middle features Dynamic Response Memory Foam, a moulded pour foam that has a uniquely responsive feel and helps provide conforming back support.

The top layer features a proprietary Comfort foam and Surface Cool Plus Fabric. This layer contains vertically oriented TENCIL fibers that are designed to dissipate body heat helping to keep you cool and comfortable.

Pure Talalay Bliss – World's Best Bed

The World's Best Bed truly lives up to its name.

The World's Best Bed offers a unique bottomless comfort that alleviates all pressure points and creates a sense of floating in the air with uplifting support. It's superior manufacturing process allows Talalay to back the World's Best Bed with a 15 year warranty when the majority of their competition only offers a 10 year warranty.

The World's Best Bed is also one of the most healthy eco friendly options available to consumers. It's naturally breathable, mold and mildew resistant, dust mite resistant, hypoallergenic and inherently antibacterial and antifungal.

The Base of World's Best Bed is a 6" support core made out of a dense, firm Talalay foam designed to support the comfort layers.

The first comfort layer is a 3" layer of Talalay foam designed to offer premium pressure relief.

The top layer of the World's Best Bed is a 4" layer of Carbon Infused Talalay foam that provides the elite comfort that Talalay is known for. Carbon is infused into the top layer to act as a purifier and keep the mattress fresh—the same way it is used in water and air filters.

Here is a short video describing the extensive process involved in creating Talalay's products:

<iframe width="560″ height="315″ src="https://www.youtube.com/embed/6xPtc8TyfXo" frameborder="0″ allow="autoplay; encrypted-media" allowfullscreen></iframe>

Tempur-Cloud Supreme Breeze

The Cloud Supreme Breeze combines Tempurpedic's classic feel with cool comfort.

Tempurpedic changed the way the world sleeps when they introduced their patented proprietary foam nearly 30 years ago. Tempur material precisely adapts to your individual weight, shape and temperature to give you unmatched level of pressure relieving comfort.

The Supreme Cloud Breeze is comprised of 4 layers of different types of foam.

The bottom layer is a 5" high density polyurethane base that provides deep compression support for the mattress.

Above the base is another 2 ½"  Polyurethane layer that is not quite as soft as the base and acts as a transitional layer of foam from the softer layers.

Next is a 2 ½ " layer of support Tempur foam designed to be ultra-breathable while providing the right amount of give and support.

On top we have a 2" layer of Extra soft Tempur-ES material that is infused with Puracool, which is a Phase changing material that draws excess body heat away from the body.
Classic
Simmons Beautyrest Silver Hybrid – Island West Luxury FIrm

The Simmons Silver Hybrid gets the gold in our book
Simmons new Silver Hybrid line provides the pressure relief benefits of a memory foam mattress in addition to the uplifting support of a traditional innerspring. The Silver Hybrids also feature a new foam called Dual Cool Memory Foam. This high tech foam is infused with Silver, which acts as a natural heat conductor that dissipates body heat. Silver also has antimicrobial properties that prevent the growth of odor-causing bacteria, mold and mildew in the foam and helps keep your mattress fresh.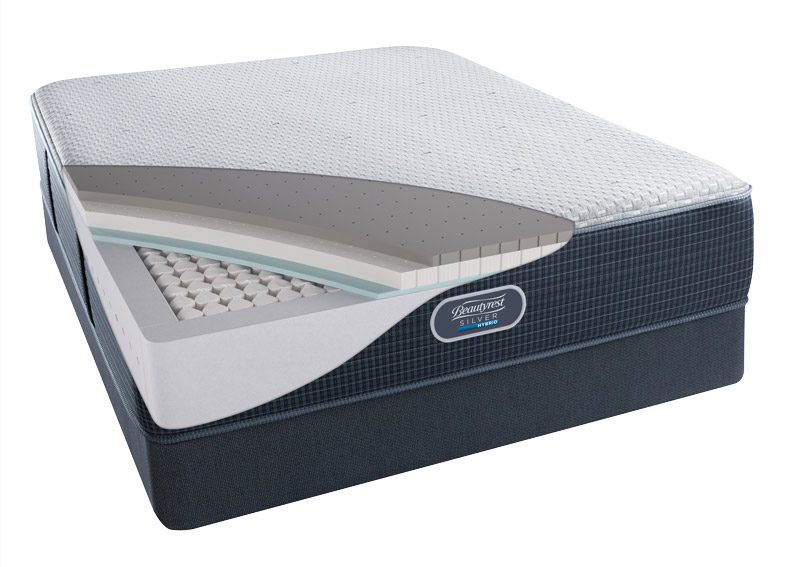 DualCool Technology Memory Foam
Contains natural silver designed to move heat away so you stay cool and comfortable. The silver's antimicrobial properties prevent the growth of odor-causing bacteria, mold and mildew – keeping your mattress fresh.
Dynamic Response Memory Foam
This ventilated memory foam has a unique feel and helps provide conforming back support.
AirCool Memory Foam
Relieves pressure points by conforming to your body's position. It's open structure delivers high air flow, helping to keep you comfortable during sleep.
Beautyrest Pocketed Coil Technology
Helps provide conforming support and motion separation for undisturbed sleep.
Stearns & Foster – Oak Terrace Pillow Top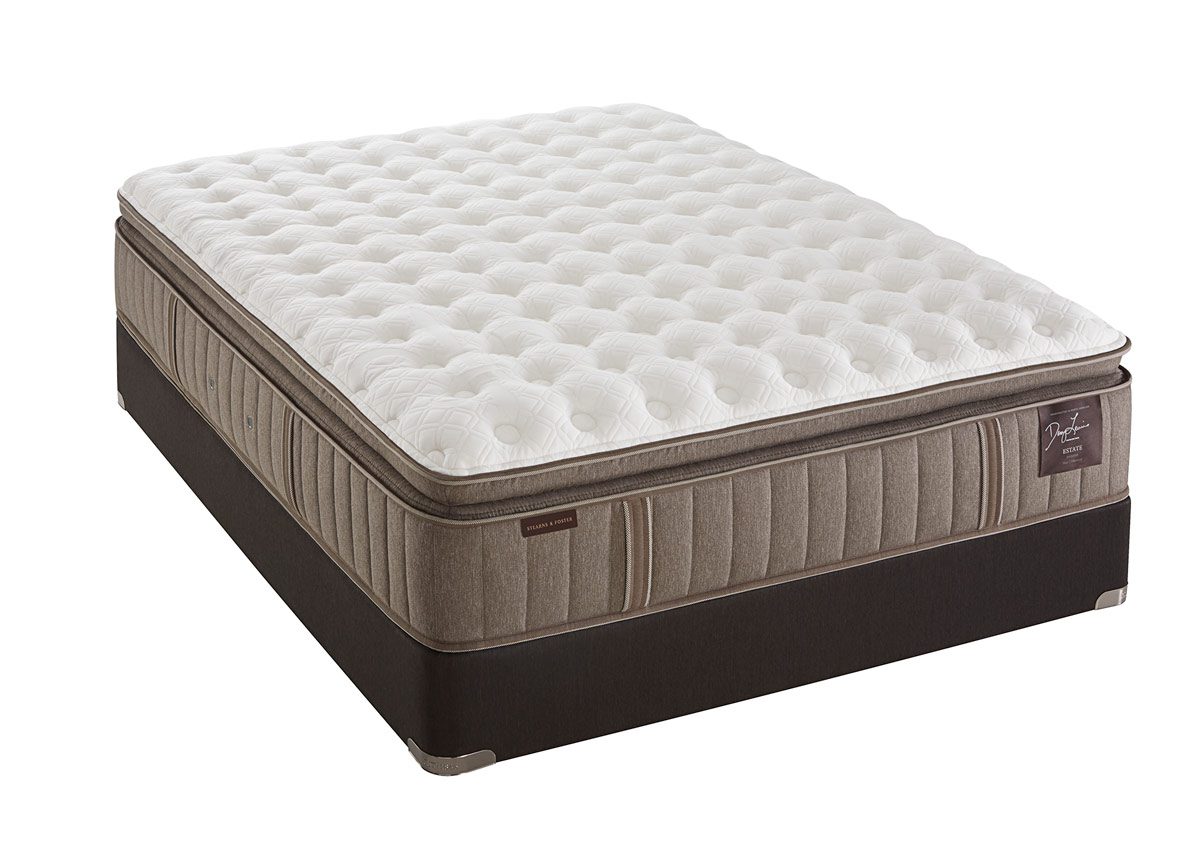 The Stearns and Foster Oak Terrace Pillowtop was made by and for Floridians
Since 1846, Stearns and Foster has represented American innovation, craftsmanship and luxury. You can find Stearns and Foster's Estate Collection at your local Bed Pros retailer. The Estate Collection is handcrafted by Florida based Master Caftsmen and includes unique cooling features like their PrecisionEdge System and side Air Vents that will keep you cool even on the hottest summer night.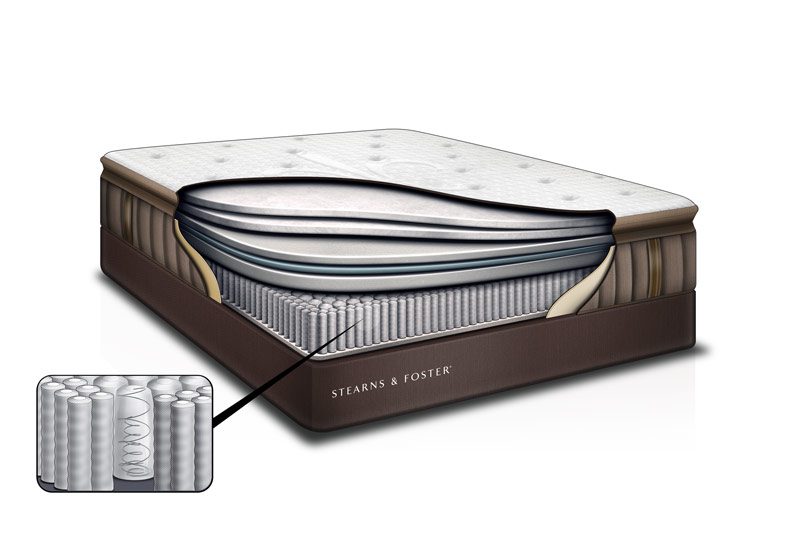 The PrecisionEdge System provides a superior seating edge, larger sleeping surface and enhanced airflow, compared to a foam encased mattress. A heavy duty coil replaces the standard foam encasement, giving the Oak Terrace Pillowtop a unrivaled seating edge.
The Stearns and Foster patterned Air Vents promote air flow for maximum breathability.
Serta iComfort – Blue 100

Serta's Blue Max 1000 is a terrific all foam option for side sleepers.
The Blue Max 1000 offers many of the comfort and climate control options of mattresses that are twice it's price. This mattress features TempActiv technology which is Serta's newest beaded gel memory foam which includes phase changing materials. The TempActiv foam makes this mattress noticeably cooler than the majority of memory foam options. You will be able to feeling the coolness through your clothes while demoing the mattress.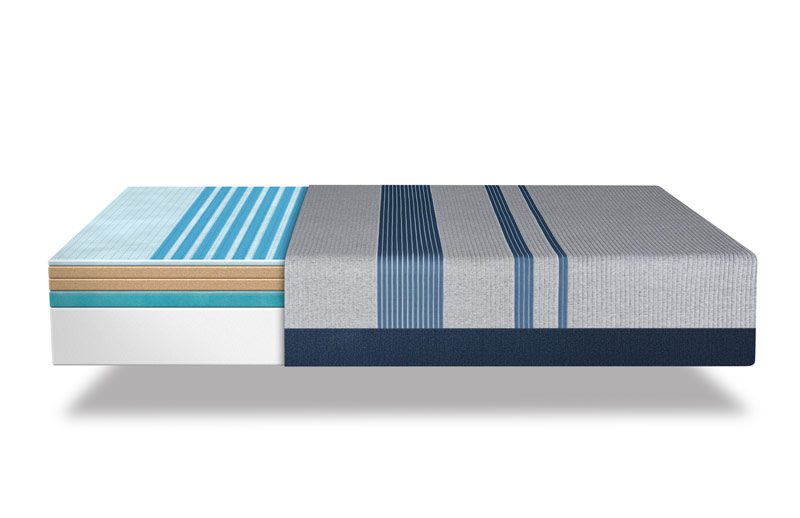 Another feature unique to the Serta Blue Max line is the layer of ActiveBalance Support Foam, which is a foam layer on the bottom engineered to offer support similar to an innerspring system. It's breathable design also assists with airflow and overall breathability.
Value
Sealy Gilded Breath
Sealy's Gilded Breath offers luxury comfort at a bargain price.
The Gilded Breath Pillow Top continues Sealy's one hundred plus years tradition of producing high quality mattresses at a affordable price. It features Sealy's StablePlus Coil a individually pocketed coil that provides maximum support and minimal motion transfer.
Another upgraded feature that this mattress features is Sealy's CoreSupport Technology. CoreSupport Technology provides 20% more coils in the center third of the mattress to provide optimal support for the area of your body the requires it the most.
Simmons Beautyrest Silver – Catching Rays Luxury Firm Pillowtop



The Catching Rays is one of the most popular mattresses Simmons has ever manufactured.
The Catching Rays Luxury Firm Pillowtop includes the classic Beautyrest features like the Individually Pocketed Coil  that has made Simmons a leader in the industry for over a century. It also includes their newest technologies like Air Cooled Gel memory Foam and the Silver infused cover that helps keep your mattress at optimal freshness.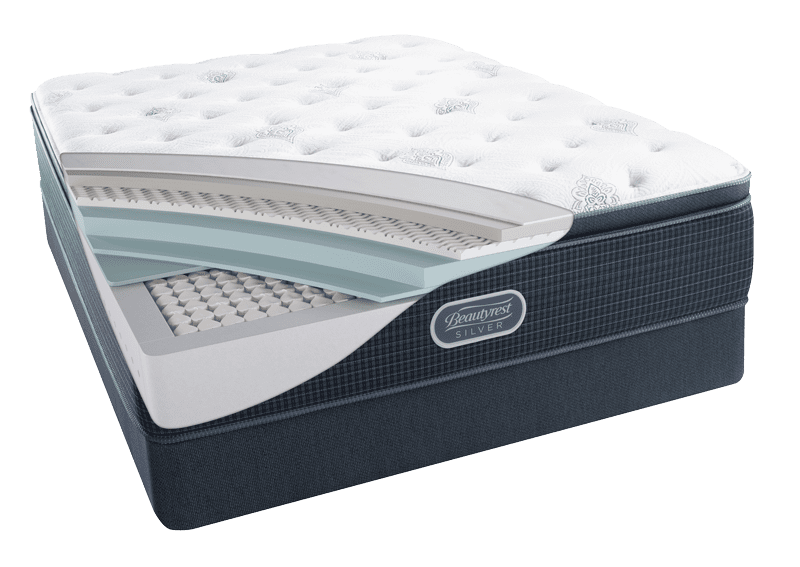 AirFeel Foam
A Soft open cell foam delivers high airflow, helping to keep you comfortable during sleep.
AirCool Foam
A channeled surface design that promotes airflow through the mattress
DualCool Technology Fiber
Featuring temperature management and elevated comfort. Enhanced with silver designed to move heat and moisture – preventing growth of stain and odor causing bacteria, mold and mildew while being soft and supple.
AirCool Gel Memory Foam
Helps promote freedom of movement and pressure point relief.
Backcare Support
Additional 490 coils strategically located in the center third of the mattress enhance contouring back support, helping you sleep comfortably.
Beautyrest Pocketed Coil Technology
Helps provide conforming support and motion separation for undisturbed sleep.